64 years later, govt decides to salvage the Walled City
03-09-2012, 12:07 PM
(This post was last modified: 03-09-2012 12:08 PM by Salman.)
Salman
Administrator


Posts: 5,071
Joined: Oct 2011
Reputation: 0
64 years later, govt decides to salvage the Walled City
64 years later, govt decides to salvage the Walled City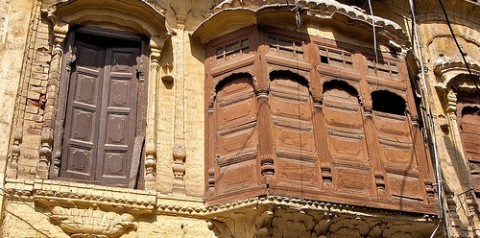 LAHORE - The Punjab Assembly passed Walled City of Lahore Bill 2011, paving a way for the establishment of an independent authority to conserve heritage of the city.
In the last three years, the government issued only 879 scholarships and distributed only Rs 16.2 million for students from Bait ul Maal.
The House also passed five more bills on Thursday. The session started under the chair of Speaker Rana Muhammad Iqbal.
The Question Hour was about Auqaf and Baitul Maal departments and Minister Ehsan ud Din Qureshi responded to the questions.
He informed the House that Bait ul Maal hd provided 879 scholarships to the deserving students in last three years.
In 2008, the government issued maximum number of scholarship to 683 students worth Rs 6 million, in 2009 it gave 88 students Rs 7 million and in 2010 Rs 3.2 million.
After Question Hour, the PA also passed six bills. Interestingly, the legislators remained non-serious during passing of the bills and at one time they voted against the Treasury benches and the speaker had to repeat the question again. The members also kept talking to each other.
The quorum was also pointed out during the session and the speaker had to adjourn the session for some time. The Treasury benches completed the number of members required and the session started.
Walled City of Lahore Bill has empowered the government to establish an independent authority for conserving the heritage of Lahore. According to the Bill, the areas comprising Union Councils 27, 28, 29 and 30 Ravi Town with their boundaries as on the commencing day of the Act including the outer circumference of the Circular Road around the four unions, Minto Park and Iqbal Park would be included in the Walled City. The authority established with Walled City of Lahore Bill would be headed by Punjab CM.
The treasury benches also passed Punjab Katchi Abadis (Amendment) Bill 2012; Punjab Public Defender Service Act (Repeal) Bill 2011; Punjab Government Servants Housing Foundation (Amendments) Bill 2011; Settlement Commissioners (Validation of orders) (Repeal) Bill 2011 and Evacuee Property and Displaced Persons Law (Repeal) (Amendments) Bill 2011.
Law Minister Rana Sana Ullah also informed the House that on Friday, the PA would debate on Women Day after question hour. The speaker adjourned the session till Friday, 9am.

Possibly Related Threads...
Thread:
Author
Replies:
Views:
Last Post
Illegal Constructions On The Go In Walled City Of Lahore
Salman
0
4,715
03-24-2014 02:14 PM
Last Post: Salman
Hamza Committee decides to divert Rs66 billion to new projects
Salman
0
3,392
03-06-2014 12:00 PM
Last Post: Salman
CDA decides action against Tarnol, Golra encroachers
Salman
0
4,208
12-18-2013 07:16 PM
Last Post: Salman
Preparation Of Building By-Laws, P & D To Uphold Walled City
Salman
0
6,599
09-18-2013 06:28 PM
Last Post: Salman
Punjab Govt Decides to Solve Disputed Land Issue With DHA Lahore
Salman
0
6,390
07-11-2013 12:03 AM
Last Post: Salman
Lahore Walled City Updates : Dilapidated Buildings In The Walled city To Be Marked An
Salman
0
12,624
07-11-2013 12:01 AM
Last Post: Salman
Walled City Of Lahore Authority Asks For The Approval Of Over Rs 2 Billion Projects
Salman
0
13,790
07-01-2013 01:31 PM
Last Post: Salman
CDA decides to expand IJP Road to eight lanes
Salman
0
3,101
04-22-2013 01:40 PM
Last Post: Salman
Conservation and restoration: Walled City Authority takes over heritage sites
Salman
0
4,031
04-04-2013 02:49 PM
Last Post: Salman
CDA decides to develop infrastructure in three sectors
Salman
0
4,410
02-21-2013 03:21 PM
Last Post: Salman
CDA decides to get 700 flats vacated from cops
Salman
0
2,810
02-20-2013 05:18 PM
Last Post: Salman
CDA decides to auction G-13 toll plaza
Salman
0
3,512
10-11-2012 11:43 AM
Last Post: Salman
CDA decides to launch C-15, 16
Salman
0
3,532
09-29-2012 02:45 PM
Last Post: Salman
Commercial property: City govt to reduce conversion fee
Salman
0
3,168
08-07-2012 12:55 PM
Last Post: Salman
Gwadar: PSA Decides to Quit
LRE
1
3,361
06-12-2012 07:21 PM
Last Post: LRE
Govt decides to construct flats for Federal officers in Sector I-12
Salman
0
4,176
05-10-2012 12:29 PM
Last Post: Salman
CDA decides to open 10 new sectors
Salman
0
7,043
05-08-2012 03:11 PM
Last Post: Salman
City govt to develop GIS for uplift planning
Lahore_Real_Estate
0
3,307
02-20-2012 01:34 PM
Last Post: Lahore_Real_Estate
CDA finally decides to start work on Park Enclave from 16th
Lahore_Real_Estate
0
3,094
02-01-2012 01:24 PM
Last Post: Lahore_Real_Estate
Walled city under threat as restoration project stalls
Lahore_Real_Estate
0
3,219
01-23-2012 03:40 PM
Last Post: Lahore_Real_Estate
User(s) browsing this thread: 1 Guest(s)