CM launches housing scheme for 'poor people'
03-26-2012, 11:41 AM
(This post was last modified: 03-26-2012 11:43 AM by Salman.)
Salman
Administrator


Posts: 5,071
Joined: Oct 2011
Reputation: 0
CM launches housing scheme for 'poor people'
CM launches housing scheme for 'poor people'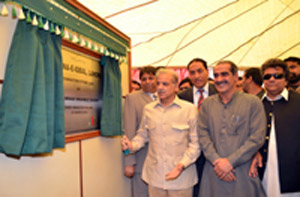 LAHORE: Punjab Chief Minister (CM) Shahbaz Sharif on Saturday launched Ashiana Iqbal Housing Scheme for the "poor people".
He was addressing the foundation stone laying ceremony of Ashiana Iqbal on Burki Road. Provincial ministers, Chaudhry Abdul Ghafoor, Haji Ehsanuddin Qureshi, members of national and provincial assemblies, the Punjab Land Development Company (PLDC) chairman and a large number of people were present.
Sharif said, "We have diverted the resources for the welfare of the downtrodden and poor people."
The Punjab CM said the Punjab government under the leadership of Nawaz Sharif was giving due share to the poor through Ashiana, laptop and yellow cab distribution schemes, Danish School System and other welfare projects. He said that after the success of Ashiana Quaid, Ashiana Iqbal has been launched on Burki Road, adding that a new city comprising 10,000 houses would be set up for the poor people. The CM said that he would continue to serve the poor throughout his life. Sharif announced that a degree college and a university would also be set up in Ashiana Iqbal.
The chief minister said the Punjab government had taken an important step towards making the country a welfare state in accordance with the ideals of Quaid-e-Azam and Allama Iqbal by providing shelter to the poor people through Ashiana Housing Scheme. For the first time in the country's history, he said the Punjab government was constructing residential colonies equipped with modern facilities for the poor, widows, orphans, hapless and heirs of the martyrs.
The CM said that early completion of Ashiana Iqbal would be ensured and he will visit the project site twice a week to review the pace of work there. He said that all houses would also be allotted through a transparent balloting. He said basic facilities would also be provided to the residents of the scheme. Sharif thanked all politicians and government officers for providing assistance for the project. The CM also thanked Pak Army chief General Ashfaq Kayani and the rangers director general for making the land available for the project.
Sharif said that rulers of Islamabad were "plundering the national resources ruthlessly". He reiterated that the plundered money would be recovered and utilised for the welfare of the masses. He said the country would be transformed in accordance with the ideals of the founders. He said the Punjab government was utilising its resources for the welfare of the poor people.
He said that air-conditioned buses were plying in Lahore, adding that these buses would also be plied in other big cities of the province.
PLDC Chairman Sheikh Allauddin, MNA Khawaja Saad Rafique and PLDC Chief Executive Officer Agha Momin also addressed the function.

Possibly Related Threads...
Thread:
Author
Replies:
Views:
Last Post
NAB prosecutor revealed to Ashiana Housing scheme
LRE-Azan
0
709
09-19-2018 12:03 PM
Last Post: LRE-Azan
Fazaia Housing Scheme Gujranwala Plot For Sale On Installment
Salman
0
13,491
08-21-2014 12:50 PM
Last Post: Salman
Globiz Avenue Housing Scheme Gawadar – NAB Public Announcement for Affectees
Salman
0
5,238
03-29-2014 05:41 PM
Last Post: Salman
Ashiana Iqbal Housing Scheme – Acting CEO of PLDC removed over negligence
Salman
0
4,594
03-27-2014 07:53 PM
Last Post: Salman
LDA declared Sagian City Housing Scheme Illegal
Salman
0
4,127
03-07-2014 11:16 PM
Last Post: Salman
Al-Hamra Avenue Housing Scheme Islamabad
Salman
0
6,605
03-06-2014 12:17 PM
Last Post: Salman
Pakistan Govt Low Income Housing Scheme
Salman
0
4,497
02-13-2014 11:58 AM
Last Post: Salman
Victims of fake housing scheme get Rs38m
Salman
0
3,253
01-22-2014 03:14 PM
Last Post: Salman
Ministry of commerce Employees co op housing scheme Islamabad newspaper ad
CMY
0
6,139
01-21-2014 09:39 PM
Last Post: CMY
Kuri Model Village Housing Scheme, Senate Committee Ordered Report From CDA
Salman
0
3,959
01-09-2014 03:05 PM
Last Post: Salman
Prime Minister's low-cost housing scheme: 25 percent share for non-gazetted employees
Salman
0
4,764
01-02-2014 01:33 PM
Last Post: Salman
Ashiana Housing Scheme Burki Road Lahore – Pre-Qualification of Contractors
Salman
0
12,749
12-23-2013 12:58 PM
Last Post: Salman
FDA Declared Citi Housing Scheme Plot Registration AS Fraud
Salman
0
7,783
12-21-2013 12:41 PM
Last Post: Salman
Sailkot : Citi Housing Scheme Blotting of Plotas
Salman
0
8,191
12-03-2013 04:44 PM
Last Post: Salman
59 plot seekers in NPF housing scheme still in the lurch
Salman
0
5,541
12-03-2013 04:39 PM
Last Post: Salman
Army Chief inaugurated JCOs' Soldiers housing insurance scheme
Salman
0
5,840
11-27-2013 04:28 PM
Last Post: Salman
CDGL launches 'Tag the City' project
Salman
0
4,728
11-25-2013 01:31 PM
Last Post: Salman
PM Announced Laon Scheme For Construction of Houses For Low Income People
Salman
0
8,686
11-08-2013 02:23 PM
Last Post: Salman
Housing scheme clarifies report; The News stands by its story
Salman
0
4,320
10-30-2013 01:29 PM
Last Post: Salman
Steps be taken to make PM's housing scheme reality: Senate body
Salman
0
7,204
10-03-2013 01:20 PM
Last Post: Salman
User(s) browsing this thread: 1 Guest(s)