Housing project: DHA project may swallow Gadap goths
04-11-2012, 12:13 PM
(This post was last modified: 04-11-2012 12:14 PM by Salman.)
Salman
Administrator


Posts: 5,071
Joined: Oct 2011
Reputation: 0
Housing project: DHA project may swallow Gadap goths
Housing project: DHA project may swallow Gadap goths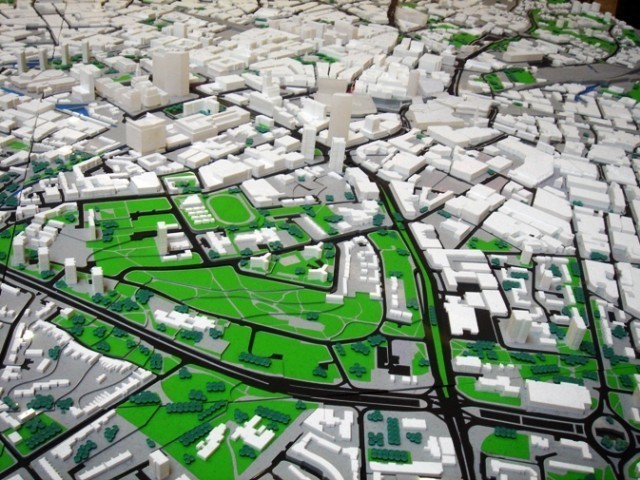 KARACHI: The Defence Housing Authority (DHA) is forcing the Sindh government to allocate land in Gadap Town by removing dozens of indigenous goths, villagers and local leaders of the Pakistan Peoples Party (PPP) say.
"According to our information, DHA wants thousands of acres of land in dehs Bahil and Kathore, which consist of dozens of scattered villages," said Raja Razak, a local PPP leader while talking to The Express Tribune on Tuesday.
The villagers held a meeting on Monday and invited provincial minister Sajid Jokhio to deliberate on the matter. DHA and the Sindh government's revenue department have not confirmed this.
The DHA is building a $1 billion housing project called DHA City Karachi (DCK) along the Super Highway. The project spread over 11,640 acres near dehs Bahil and Kathore.
"These villages can't be uprooted just to make way for another project," said Razak. "These people have been living here even before Independence. They have more right over the land than anyone else."
Just a few days back, President Asif Ali Zardari ordered DHA to allocate 1,000 acres in DCK for the families of soldiers who have been martyred fighting terrorists. DHA has already sold most of the plots in the project.

Possibly Related Threads...
Thread:
Author
Replies:
Views:
Last Post
Pakistan and China Discuss on Railway Project - Development News
LRE-Azan
0
1,011
07-16-2018 07:32 PM
Last Post: LRE-Azan
Margalla Hills National Park: PTDC to execute chairlift project
Salman
0
2,962
04-24-2015 03:14 PM
Last Post: Salman
Subsidy sharing formula of Metro project decided
Salman
0
3,044
04-18-2015 05:11 PM
Last Post: Salman
Islamabad Expressway widening project on the cards
Salman
0
3,531
04-09-2015 04:20 PM
Last Post: Salman
Metro bus project: Rewriting facts to suit narratives
Salman
0
2,690
03-31-2014 07:34 PM
Last Post: Salman
Nine pre-qualify for Islamabad portion of metro bus project
Salman
0
3,336
03-28-2014 02:28 PM
Last Post: Salman
PM performs ground breaking of Rs 44 bln Metro Bus project
Salman
0
2,842
03-24-2014 02:10 PM
Last Post: Salman
Metro Bus project to be launched on 23rd
Salman
0
2,916
03-22-2014 06:07 PM
Last Post: Salman
Islamabad Safe City Project to be launched
Salman
0
2,935
03-22-2014 06:06 PM
Last Post: Salman
Public hearing on Metro Bus Project
Salman
0
2,646
03-19-2014 02:54 PM
Last Post: Salman
NLC wins a contract for Pindi section of Metro Bus Project
Salman
0
2,916
03-18-2014 02:22 PM
Last Post: Salman
Bahria Town Karachi project and it's invisible hands
Salman
0
3,786
03-17-2014 01:29 PM
Last Post: Salman
Shahbaz Sharif reviews Ring Road project
Salman
0
4,043
03-13-2014 05:18 PM
Last Post: Salman
CDA agrees to metro bus project
Salman
0
2,395
03-12-2014 02:24 PM
Last Post: Salman
Metro bus project: Facing the axe: widening of avenues will eat up green belts
Salman
0
4,548
03-10-2014 04:48 PM
Last Post: Salman
Satellite Town Jhelum – A Project of Citi Housing
Salman
0
9,340
03-06-2014 12:48 PM
Last Post: Salman
CDA to complete Kashmir Highway project by May 31
Salman
0
2,468
02-25-2014 01:22 PM
Last Post: Salman
Minister dissatisfied over delay in Kurri Road project
Salman
0
2,767
02-25-2014 01:16 PM
Last Post: Salman
Govt gives green signal to Leh Expressway project
Salman
0
2,733
02-20-2014 01:52 PM
Last Post: Salman
CDA still to execute bus stand project
Salman
0
2,160
02-19-2014 04:30 PM
Last Post: Salman
User(s) browsing this thread: 1 Guest(s)