Balloting of flats for labourers held
04-27-2012, 01:03 PM
(This post was last modified: 04-27-2012 01:06 PM by Salman.)
Salman
Administrator


Posts: 5,071
Joined: Oct 2011
Reputation: 0
Balloting of flats for labourers held
Balloting of flats for laborers held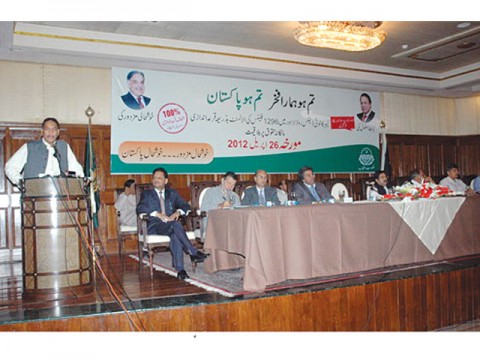 LAHORE - Provincial Minister for Labour Haji Ehsanuddin Qureshi has said that flats are being given to the labouresrs on ownership basis for the first time in the history of the country.
He said that it was the vision of PML-N Quaid Nawaz Sharif and Khadim-e-Aala Shahbaz Sharif has given it a practical shape. He said that Punjab government is taking all possible steps for improving the socio-economic condition of the labourers and required funds have been provided for timely completion of the ongoing projects under Labour Department.
He expressed these views while addressing the function of allotment of flats on ownership basis to the labourers at 90-Shahrah-e-Quaid-e-Azam here Thursday.
Provincial Minister Ch. Abdul Ghafoor, Parliamentary Secretary Rana Muhammad Arshad, Secretary Labour Hassan Iqbal and Secretary General of Pakistan Workers Federation Khurshid Ahmad also addressed on this occasion. The process of computerized balloting was conducted in a transparent manner under the supervision of Justice ® Aamir Raza Khan.
Ehsanuddin Qureshi said that a labour colony consisting of 1296 flats costing more than Rs 2177 million on 47 acre land has been constructed on Defence Road Lahore for labourers. He said that the balloting of flats has been conducted in a transparent manner before the media. He disclosed that the Chief Minister Punjab will give the keys and documents of these flats to the labourers on International Labour Day falling on May 1. He said that provincial government is also making legislation for resolving the problems of kiln labourers. He said that the flaws in the laws of child labour are also being removed.
Minister Ghafoor said that the labourers play important role for the development of the country. He said that the provincial government under the leadership of Nawaz Sharif has executed record development projects in its era and this project is vision of Nawaz Sharif which was accomplished by Chief Minister Shahbaz Sharif. Secretary Labour Hassan Iqbal informed that all process has been completed in a transparent manner through various agencies so that there should be no chance of favourtism or nepotism. He informed that the labour department has accomplished this task with honesty and balloting has been completed through a computerized database. Labour leader Khurshid Ahmad lauding the step of awarding flats on ownership basis by Punjab government, congratulated the Chief Minister and expressed the hope that he will continue to initiate such welfare projects for the labourers.
President of Pakistan Muslim League-N Labour Wing Syed Mushtaq Hussain Shah and Parliamentary leader Rana Muhammad Arshad also addressed on the occasion. Provincial Ministers in the presence of Justice ® Aamir Raza Khan and media representatives pressed the button of computer and completed the process of balloting of 1296 flats in a transparent manner.

Possibly Related Threads...
Thread:
Author
Replies:
Views:
Last Post
FBR receives details of property held by Pakistanis in UK
LRE-Azan
0
1,045
07-18-2018 04:07 PM
Last Post: LRE-Azan
DHA Fairways Commercial Plazas Ceremoney held
Salman
0
1,693
07-24-2017 03:21 PM
Last Post: Salman
Lahore DHA Phase 9 Ballot To Be Held On May 15 2015.
Salman
0
6,322
05-01-2015 03:24 PM
Last Post: Salman
Ashiana Houses Faisalabad & Sahiwal balloting on April 18, 2015
Salman
0
3,484
04-18-2015 05:06 PM
Last Post: Salman
Bahria Town Karachi Balloting Results
Salman
0
10,789
03-24-2014 02:19 PM
Last Post: Salman
Bahria Town Karachi Balloting Results On Mar 23, 2014
Salman
0
6,809
03-18-2014 01:51 PM
Last Post: Salman
Balloting of Ashiana Housing Faisalabad and Sahiwal Today
Salman
0
5,248
03-06-2014 12:31 PM
Last Post: Salman
Balloting in Ashiana Housing Faisalabad, Sahiwal Soon
Salman
0
3,556
03-01-2014 01:15 PM
Last Post: Salman
DHA Karachi – Ground-breaking Ceremony Held In Sector E, Phase 8
Salman
0
2,741
02-04-2014 02:06 PM
Last Post: Salman
CBR Town Phase-2 Islamabad Balloting on December 21, 2013
Salman
0
7,968
12-19-2013 03:11 PM
Last Post: Salman
Balloting of Benazir Bhutto Towns Housing Schemes in Sindh
Salman
0
6,299
12-10-2013 04:30 PM
Last Post: Salman
LDA Going To Held Plot Auction
Salman
0
5,955
09-25-2013 12:24 PM
Last Post: Salman
1,268 government houses, flats found in illegal occupation
Salman
0
2,320
04-11-2013 03:13 PM
Last Post: Salman
CDA decides to get 700 flats vacated from cops
Salman
0
2,158
02-20-2013 05:18 PM
Last Post: Salman
Godown Road's poor condition bane for residents of PHA flats
Salman
0
2,664
12-26-2012 12:23 PM
Last Post: Salman
CDA balloting to be monitored
Salman
0
4,314
12-04-2012 04:42 PM
Last Post: Salman
Construction of G-13 flats to start in 15 days
Salman
0
3,344
11-08-2012 12:08 PM
Last Post: Salman
Construction of 5,000 govt flats on the anvil
Salman
0
2,643
09-03-2012 03:03 PM
Last Post: Salman
Islamabad to have 5,000 more flats
Salman
0
2,357
08-30-2012 07:05 PM
Last Post: Salman
Balloting of Park Enclave housing project
Salman
0
5,637
07-25-2012 01:47 PM
Last Post: Salman
User(s) browsing this thread: 1 Guest(s)