LDA had approved Pace Woodlands Housing project
05-15-2012, 02:12 PM
(This post was last modified: 05-15-2012 02:13 PM by Salman.)
Salman
Administrator


Posts: 5,071
Joined: Oct 2011
Reputation: 0
LDA had approved Pace Woodlands Housing project
LDA had approved Pace Woodlands Housing project
LAHORE: The Lahore Development Authority (LDA) has formally approved the Pace Woodlands Housing Project, but a recent advertisement published in a section of press was contradictory to the facts, said the project administration on Monday.
Reacting to a city district government advertisement entitled, "warning" published on Monday, the project administration said that the project was formally approved by the town planner of the LDA.
The admin also said the LDA also issued a letter on October 8, 2007 in this regard. The Pace project situated at Mouza Lidher, Tehsil Cantt, Bedian Road, Lahore, did not fall in the category of those housing societies against which the city government had issued a warning.
The administration said it had written a letter to the city district government to issue a contradiction/corrigendum to the press to remove misconceptions in this regard.
The administration also thanked its clients for their full confidence in the company for successful completion of the project.
The administration, while showing the letter, said that they were fully obeying rules and regulations mentioned in the letter of the LDA. Pace Pakistan Ltd is a famous company which started from commercial projects such as shopping malls.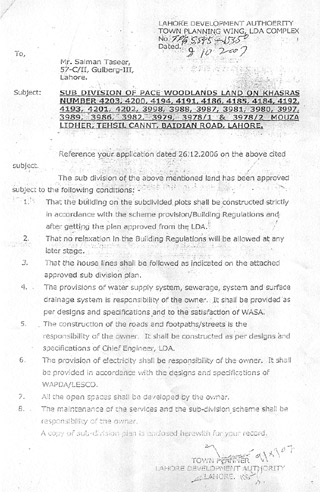 Possibly Related Threads...
Thread:
Author
Replies:
Views:
Last Post
Extension work moves at snail's pace
Salman
0
2,660
03-31-2014 07:33 PM
Last Post: Salman
Satellite Town Jhelum – A Project of Citi Housing
Salman
0
9,754
03-06-2014 12:48 PM
Last Post: Salman
PC-1 of Metro Bus Service project approved
Salman
0
3,501
02-10-2014 02:46 PM
Last Post: Salman
LDA begins purchasing land for new housing project
Salman
0
2,762
02-01-2014 01:24 PM
Last Post: Salman
Park Enclave Housing Project, Senate Committee took notice of development
Salman
0
4,255
01-08-2014 02:44 PM
Last Post: Salman
Islamabad Bus Service Project approved
Salman
0
3,097
01-06-2014 11:39 AM
Last Post: Salman
Hurdles in dev of Park enclave housing project to be removed
Salman
0
3,583
01-02-2014 01:31 PM
Last Post: Salman
Apna Ghar Housing Project's Steering Committee Meeting
Salman
0
5,918
11-20-2013 03:13 PM
Last Post: Salman
Mareer Chowk expansion project progressing at snail's pace
Salman
0
2,692
05-18-2013 12:34 PM
Last Post: Salman
1,000-acre housing project planned
Salman
0
3,015
05-15-2013 04:42 PM
Last Post: Salman
Revised PC-I of Mareer Chowk Project Approved
Salman
0
2,722
04-25-2013 04:08 PM
Last Post: Salman
Judicial Complex underpass project approved
Salman
0
2,954
12-04-2012 04:43 PM
Last Post: Salman
CM Punjab Visits Ashiana Housing Project
Salman
0
3,897
10-24-2012 12:42 PM
Last Post: Salman
New housing project
Salman
0
3,225
08-27-2012 06:14 PM
Last Post: Salman
Balloting of Park Enclave housing project
Salman
0
5,811
07-25-2012 01:47 PM
Last Post: Salman
MM Alam Road widening project approved
Salman
0
2,937
07-04-2012 02:39 PM
Last Post: Salman
OPF told to resolve issues delaying housing project
Salman
0
3,402
05-09-2012 12:05 PM
Last Post: Salman
Indo-Pak private sectors to keep pace with political development
Salman
0
2,303
04-12-2012 01:06 PM
Last Post: Salman
Housing project: DHA project may swallow Gadap goths
Salman
0
5,426
04-11-2012 12:13 PM
Last Post: Salman
After success of one housing project, AKD opens the door on another
Salman
0
2,622
01-26-2012 01:25 PM
Last Post: Salman
User(s) browsing this thread: 1 Guest(s)