Lahore Ashiana Iqbal Housing Scheme Contract Awarded For Development
01-29-2013, 04:10 PM
(This post was last modified: 01-29-2013 04:11 PM by Salman.)
Salman
Administrator


Posts: 5,071
Joined: Oct 2011
Reputation: 0
Lahore Ashiana Iqbal Housing Scheme Contract Awarded For Development
Lahore : A ceremony was held in Lahore to award the infrastructure development contract of mega housing project "Ashiana Iqbal Lahore".
Ashiana Iqbal housing scheme is Asia biggest housing scheme for low income peoples.
Ashiana Iqbal Lahore will be consist of almost 10,000 (ten thousands) residential and commercial housing units. It will accommodate one lac (1,00,000) persons.
Ashiana Iqbal is located on Barki road Lahore.
Development contract awarded to Abdul Latif and son's on lowest bid of 1.5 billions and its will complete in one and half year. Development work will start in the the start of February, 2013.
PLDC chairman and CEO also addressed the ceremony.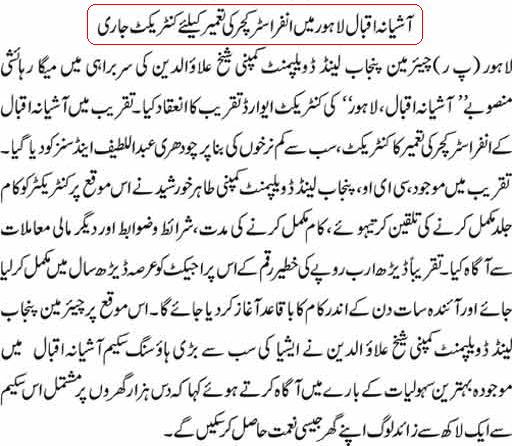 Possibly Related Threads...
Thread:
Author
Replies:
Views:
Last Post
Lahore: There will be 30 Agreements with Companies at the Dubai Expo, Aslam Iqbal Sai
LRE-Azan
0
51
11-22-2021 08:04 PM
Last Post: LRE-Azan
Naya Pakistan Housing Scheme
LRE-Azan
0
50
11-20-2021 12:25 PM
Last Post: LRE-Azan
NAB prosecutor revealed to Ashiana Housing scheme
LRE-Azan
0
2,979
09-19-2018 12:03 PM
Last Post: LRE-Azan
Pakistan Raised their Economic Development Ahsan Iqbal
LRE-Azan
0
3,357
11-06-2017 01:43 PM
Last Post: LRE-Azan
Ashiana Houses Faisalabad & Sahiwal balloting on April 18, 2015
Salman
0
4,434
04-18-2015 05:06 PM
Last Post: Salman
Ashiana e Quaid Lahore Townhouses and Apartments Planned
Salman
0
4,832
04-18-2015 04:56 PM
Last Post: Salman
Ashiana e Quaid Lahore Townhouses and Apartments Planned
Salman
0
4,192
04-14-2015 03:07 PM
Last Post: Salman
Fazaia Housing Scheme Gujranwala Plot For Sale On Installment
Salman
0
14,759
08-21-2014 12:50 PM
Last Post: Salman
Globiz Avenue Housing Scheme Gawadar – NAB Public Announcement for Affectees
Salman
0
6,303
03-29-2014 05:41 PM
Last Post: Salman
Ashiana Iqbal Housing Scheme – Acting CEO of PLDC removed over negligence
Salman
0
5,630
03-27-2014 07:53 PM
Last Post: Salman
Committee demands report about illegal development of new housing societies in ICT
Salman
0
3,878
03-21-2014 04:34 PM
Last Post: Salman
NLC wins a contract for Pindi section of Metro Bus Project
Salman
0
3,807
03-18-2014 02:22 PM
Last Post: Salman
LDA declared Sagian City Housing Scheme Illegal
Salman
0
5,232
03-07-2014 11:16 PM
Last Post: Salman
Balloting of Ashiana Housing Faisalabad and Sahiwal Today
Salman
0
6,166
03-06-2014 12:31 PM
Last Post: Salman
Al-Hamra Avenue Housing Scheme Islamabad
Salman
0
8,295
03-06-2014 12:17 PM
Last Post: Salman
Balloting in Ashiana Housing Faisalabad, Sahiwal Soon
Salman
0
4,408
03-01-2014 01:15 PM
Last Post: Salman
Pakistan Govt Low Income Housing Scheme
Salman
0
5,579
02-13-2014 11:58 AM
Last Post: Salman
Victims of fake housing scheme get Rs38m
Salman
0
4,240
01-22-2014 03:14 PM
Last Post: Salman
Ministry of commerce Employees co op housing scheme Islamabad newspaper ad
CMY
0
7,273
01-21-2014 09:39 PM
Last Post: CMY
Kuri Model Village Housing Scheme, Senate Committee Ordered Report From CDA
Salman
0
5,133
01-09-2014 03:05 PM
Last Post: Salman
User(s) browsing this thread: 1 Guest(s)