Ashiana Houses Faisalabad & Sahiwal balloting on April 18, 2015
04-18-2015, 05:06 PM
(This post was last modified: 04-18-2015 05:07 PM by Salman.)
Salman
Administrator


Posts: 5,071
Joined: Oct 2011
Reputation: 0
Ashiana Houses Faisalabad & Sahiwal balloting on April 18, 2015
Under the leadership of Chief Minister of Punjab Mr. Mian Muhammad Shahbaz Sharif, The balloting of complete built houses are going to be held.
Ashiana Housing Schemes Balloting of Sahiwal and Faisalabad Houses Phase-1 will be on 18th April, 2015 (Saturday) at 03:00 PM. The venue of draw will be PLDC Head office GOR-1, Lahore.
The Result of Complete balloting will eb published on
http://www.pldc.gop.pk
Good Luck!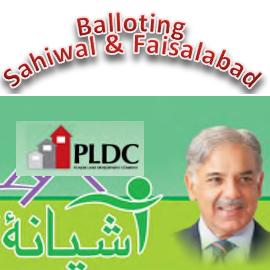 Possibly Related Threads...
Thread:
Author
Replies:
Views:
Last Post
Bahria Town Karachi 2 Balloting to be Held on April 14
LRE-Azan
0
315
04-13-2023 05:53 PM
Last Post: LRE-Azan
Kings Town's B-Sector has finished the Balloting
LRE-Azan
0
355
04-01-2023 12:59 PM
Last Post: LRE-Azan
Faisalabad: Demolition of Illegal Commercial Market on Canal Expressway
LRE-Azan
0
861
03-02-2022 06:50 PM
Last Post: LRE-Azan
Faisalabad: Campaign against defaulters of Commercialization fees Continues
LRE-Azan
0
854
03-02-2022 06:49 PM
Last Post: LRE-Azan
Faisalabad: Campaign Against Illegal Constructions & Encroachments in Residential Col
LRE-Azan
0
852
11-02-2021 06:32 PM
Last Post: LRE-Azan
NAB prosecutor revealed to Ashiana Housing scheme
LRE-Azan
0
3,959
09-19-2018 12:03 PM
Last Post: LRE-Azan
Lahore Property Prices Update By Lahore Real Estate ® April 30, 2015
Salman
0
6,168
04-30-2015 05:29 PM
Last Post: Salman
Lahore DHA Phase 8 IVY Green Plots For Sale 27th April 2015
Salman
0
6,059
04-28-2015 07:15 PM
Last Post: Salman
Lahore Property Prices Update By Lahore Real Estate ® April 27, 2015
Salman
0
5,430
04-27-2015 01:45 PM
Last Post: Salman
Lahore Property Prices Update By Lahore Real Estate ® April 21, 2015
Salman
0
5,098
04-21-2015 03:16 PM
Last Post: Salman
Ashiana e Quaid Lahore Townhouses and Apartments Planned
Salman
0
5,710
04-18-2015 04:56 PM
Last Post: Salman
Lahore Property Prices Update By Lahore Real Estate ® April 14, 2015
Salman
0
5,266
04-14-2015 03:11 PM
Last Post: Salman
Ashiana e Quaid Lahore Townhouses and Apartments Planned
Salman
0
5,082
04-14-2015 03:07 PM
Last Post: Salman
Lahore Property Prices Update By Lahore Real Estate ® April 08, 2015
Salman
0
5,223
04-09-2015 04:22 PM
Last Post: Salman
Ashiana Iqbal Housing Scheme – Acting CEO of PLDC removed over negligence
Salman
0
6,594
03-27-2014 07:53 PM
Last Post: Salman
Bahria Town Karachi Balloting Results
Salman
0
13,001
03-24-2014 02:19 PM
Last Post: Salman
Balloting of Ashiana Housing Faisalabad and Sahiwal Today
Salman
0
7,007
03-06-2014 12:31 PM
Last Post: Salman
Balloting in Ashiana Housing Faisalabad, Sahiwal Soon
Salman
0
5,359
03-01-2014 01:15 PM
Last Post: Salman
Ashiana Housing Scheme Burki Road Lahore – Pre-Qualification of Contractors
Salman
0
14,756
12-23-2013 12:58 PM
Last Post: Salman
Citi Housing Faisalabad, Gujrat & Kharian Projects Announced
Salman
0
9,361
12-20-2013 12:53 PM
Last Post: Salman
User(s) browsing this thread: 1 Guest(s)